TravelConnector TCS308 LAN | WLAN system for travelers, 8.5dBi WiFi antenna, weatherproof
---
TravelConnector TCS308 WiFi Systen - Professional Traveller's WiFi System
The TravelConnector TCS308 WiFi set is specially designed for the mobile usage in motorhomes, campers and caravans.

Most hotels and campsites are offering either free or fee required Wi-Fi services. To make use of it also from a longer distance the new TravelConnector WiFi Set is suited perfectly. With the TravelConnector WiFi set you can surf the internet even with a low WiFi signal while being up to 2700m (under optimal conditions) away from the next hotspot!
The TravelConnector WiFi set TCS308 includes a compact 2.4GHz WiFi 5dBi omnidirectional antenna with a waterproof IP66 certified case (CPE), a 5m ethernet cable, 2DK mounting system and WiFi Module with Ralink RT3070 chipset. Available as an option are various mounting systems and the WiFi travel router.
Sample Application with travel router in a mobile home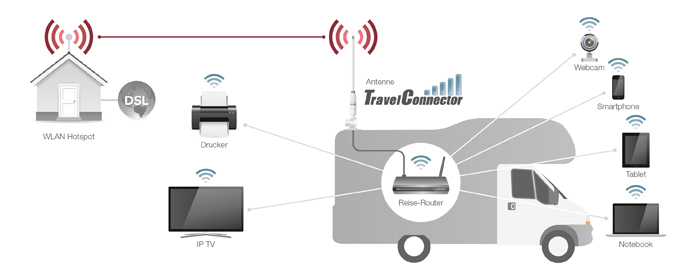 Wide opening angle
The 8,5dBi WiFi omnidirectional antenna is optimized for the frequency range between 2.4 - 2.5GHz. Through its 360° horizontal opening angle there is no need to align the Wi-Fi antenna. The huge vertical opening angle of 33° is optimal for the usage on boats or yachts, which are not able to keep their position due to waves or flow, to stay connected.
Clever Design
Through the direct integration of an active WiFi module inside of the Wi Fi antenna there is no need of an antenna cable. On this way it is possible to let all the transmission and reception power of the Wi-Fi module flow directly and without any losses into the WiFi antenna. It also increases the range of the WiFi signal over many times.
High-quality workmanship
The WiFi antenna is made out of chromed aluminium, glass fibre (GFK) and POM to make sure it will work constantly, even under the most adverse surroundings like sea water. It is able to withstand wind forces up to 170 km/h and temperatures from -20°C to 50°C. The TravelConnector WiFi antenna is absolutely weather-resistant and, due to the IP66 certified plastic case, can also be used under extreme weather conditions.
The TravelConnector WiFi set is the solution for a stable and reliable WiFi signal on your yacht, your sailing boat, your campervan, caravan - whether for your PC or ( combined with WiFi travel router) for more devices that should access the wireless network.
Plug & Play
The TravelConnector Set is with the easy plug & play assembly directly connected with a ethernet-cable to your laptop or PC - done! The flexible ethernet-cable is easily relocated and can be extended up to 40m.
WiFi travel router - Get your own WiFi hotspot
The TravelConnector set can be optionally combined with a special WiFi travel router (see example above). Combined with the travel router it is possible to access several WLAN-capable devices, like notebooks, smartphones, tablets, IP-cameras and others, at the same time without using a cable. On this way you are able to surf the internet with TravelConnector conveniently on more than just one device. All settings are made in a WEB-browser and can be controlled by any operating system. The installation of drivers or tools is not necessary. The power supply for the WiFi-electricity in the antenna is provided through the USB-router which is run by 12-24V DC voltage.
Flexible Mounting
The 1 inch internal thread of the Travel Connector offers various comfortable mounting and installation options. The following mounting brackets are optional available:
- 2DK - 2D joint tilt bracket
- 2DKM - 2D joint tilt bracket with magnets
- 3DK - 3D joint tilt bracket
- SH2D - 2D joint tilt bracket with sucker
- MH1 - Pole mount
- RH1 - Railing-holder (22-30mm)
- RH2D - Railing-holder with tilt joint
- SMH1 - Pole mount for pole installation sideways
The Travel Connector WiFi Set is the ideal solution for a stationary and mobile usage for your PC / notebook. Due to the 360° omni-directional characteristics it is not necessary to align the antenna on a central point. This feature is great for a usage on boats, yachts or other moving vehicles. The WiFi set is not in need of any extra power supply. Because of its optional quick fasteners, like the suction foot or magnet, it can be set up within seconds. For this reason it is your perfect travel companion - whether it's for business matters or private use, in your car, your holiday apartment, on the campsite, in the campervan or for far off hotspots in the park.
Downloads
Manual
Technische Daten:
Manufacturer / Model:
TravelConnector / TCS308
Antenna:
Omnidirectional
Gain:
8,5dBi
Impedance:
50 Ohm
Frequency:
2400 - 2485 MHz
(IEEE802.11 b/g/n)
VSWR:
max. 1.6
Polarization:
Vertikal (Linear)
Beam width:
360° Horizontal
20° Vertical
Appliance:
Indoor / Outdoor
Material:
Aluminium chromed, GFK, POM
IP Rating:
IP 66
Cable:
5m ethernet cable
Dimensions:
L: 74cm, D: 2,6cm
Fastening:
1 Inch Thread
Weight:
740g (with cable)
Color:
White
Max. wind load:
170 m/s
Working temperature:
-20°C - +50°C
Scope of delivery:
1 x TravelConnector TCS308 with 5m ethernet cable
1 x WiFi Module RT3070
1 x Choosed Mounting Equipment (2DK Standard)
---
Shipping weight:
1,00 Kg
Product weight:

0,74

Kg