Description
The ALFA Networks R36AH is a combination of 4G router, WiFi range extender and WiFi access point. Thus, the R36A is a true all-rounder and provides you with an incredibly wide range of features and features.
The ALFA R36AH with enhanced USB design can receive both, WiFi hotspot signals or 4G data connections and distribute them to local devices via WiFi or Ethernet. Its advanced USB design makes it the only ALFA wireless router in R36 series that can stably control the ALFA Tube-U4G / ALFA Tube-U4Gv2 4G modem.
4G Router:
To use the ALFA R36AH as an 4G router, simply connect an ONYX 4G 4G Stick or Tube-U4G / Tube-U4Gv2 to the USB port on the ALFA R36AH. This builds, after appropriate setup, a 4G connection. The R36AH will share this connection via Wi-Fi or Ethernet.
WiFi Range-Extender:
You can connect an AWUS036NH, AWUS036NEH, AWUS036NHA, AWUS036ACHM, AWUS036ACM, Tube-UN, Tube-UNA or Tube-UAC2 WiFi adapter to the USB port of the ALFA R36AH. Once connected, you can set up a connect to a remote WiFi network / HotSpot! The R36AH can share this connection by WiFi or Ethernet.
AccessPoint:
Of course you can also use the ALFA R36AH as simple access point, connecting several devices to each other.
It supports several security mechanisms like SSID Broadcast, MAC adress contol, WEP, WPA, WPA2, WPA-PSK/WPA2-PSK.
The ALFA R36AH also has a detachable RP-SMA WiFi antenna which can be easily replaced by another WiFi antenna.
Beacuse of its compact design, the R36AH can be perfectly used for mobile aplliances. Its power consumption of 12V allows you to use it on boats, yachts, caravans.
The user friendly webinterface of the R36AH allows a comfortable configuration of the device.
Example of use as 4G Router: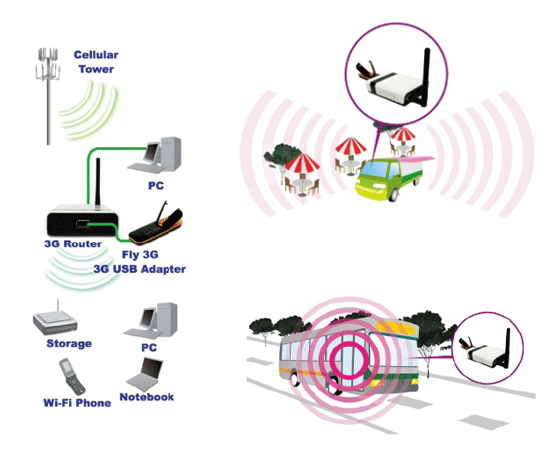 Example of use as WiFi Range Extender in combination with ALFA WiFi USB Adapter: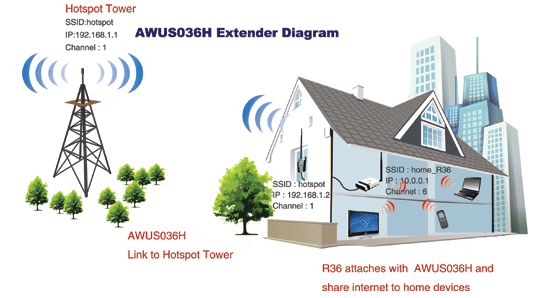 Technical Data:
Manufacturer / Product:
ALFA Networks / R36AH
Protocols:
LTE/4G, PPPoE, PPTP, L2TP, CSMA/CA, CSMA/CD, TCP/IP, DHCP, Cable
Features:
NAT, Static Routing, DHCP Server, MAC Filter
USB Interface:
1 x USB 2.0 Interface (4G Modem / WiFi USB Adapter)
WAN Interface:
1 x 10/100Mbps WAN Port
LAN Interface:
1 x 10/100Mbps LAN Port, Auto MDI-X, Auto-Negotiation
WiFi Chipset:
QCA9531
WiFi Frequency:
2.142 - 2.484GHz
WiFi Standards:
IEEE 802.11b: 11 Mbit
IEEE 802.11g: 54 MBit
IEEE 802.11n: 300 MBit
TX Power:
23dBm
RX Sensitivity:
11b: -96@1M, 11g: -77@54M, 11n: -90@HT20
Security:
64/128bit WEP, WPA (TKIP mit IEEE 802.1x), WPA2 (AES mit IEEE 802.1x), WPA Mixed, 802.1x authentication
Channels:
USA 11, Europa 13
WiFi Antenna:
detachable WiFi antenna with RP-SMA connector
Dimensions:
9.3 x 7 x 2.6cm
Weight:
74g
Operating Temperature:
-20C - +60C
Operating Humidity:
10% to 85% non condensing
Scope of delivery:
1 x ALFA R36AH Wireless Router
1 x WiFi antenna (RP-SMA)
1 x 230V EU Power supply (12V/1A)