ALFA R36 3G / DSL Router, Range Extender | 2.4GHz, 150Mbps, 1 x USB
---
ALFA R36 is a All-in-One solution with integrated DSL Router, 3G Router, WiFi Range Extender and WiFi Accesspoint in one device. Its a real allround device having various functions.
DSL Router:
You can simply configure ALFA R36 through its Ethernet-Interface as DSL router. With its integrated WiFi access point you can provide a WiFi network to several clients (notebook, PC, smartphone, tablet...).
3G/UMTS Router:
By connecting a 3G USB dongle to the USB interface of the ALFA R36 you can turn this device into a reliable 3G/UMTS router which builds up a constant 3G connection and shares it to the by wifi or ethernet connected devices.
WiFi Range-Extender:
This is a real nice feature of ALFA R36! By connecting a high gain WiFi USB adapter to the USB interface of the R36, you can turn this device into a Wireless Range Extender. It connects through the attached WiFi USB adapter to a chosen, external wifi network and shares it to the by ethernet or wifi connected devices. This is a real good option for example if you are on a camping site or on a boat and you want to connect to a hotspot which is a little bit more far away with several devices . Compatible USB adapters are the ALFA AWUS036H, AWUS036NHR, ALFA Tube N and Tube G (also available at our webshop).
AccessPoint:
Of course you can also use the ALFA R36 as simple access point, connecting several devices to each other.
It supports several security mechanisms like SSID Broadcast, MAC adress contol, WEP, WPA, WPA2, WPA-PSK/WPA2-PSK ans WPS encryption.
The ALFA R36 supports several functions like WDS, Dual SSID, Static Routing, QoS, Virtual Servers, DMZ Host and UPnP. It also supports port forwarding, WEB and remote management. A integrated SPI firewall protects you against attacks from the internet.
The ALFA R36 also has a detachable RP-SMA WiFi antenna which can be replaced by another, WiFi antenna.
Beacuse of its compact design, the R36 can be perfectly used for mobile aplliances. Its power consumption of 12V allows you to use it on boats, yachts, caravans.
The user friendly webinterface of the R36 allows a comfortable configuration of the device.
Example of use as 3G Router: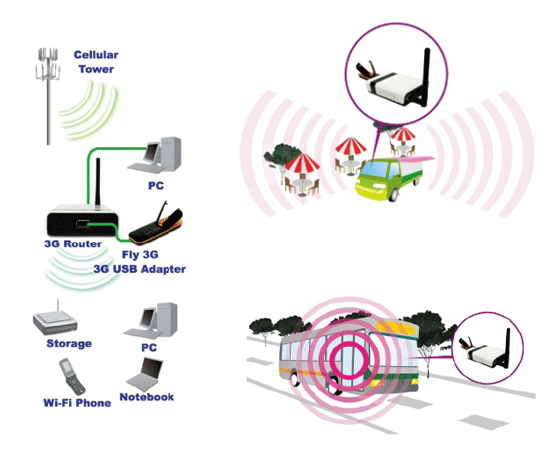 Example of use as WiFi Range Extender in combination wirh a ALFA AWUS036H WiFi USB Adapter: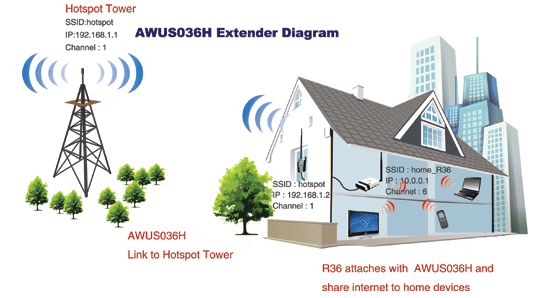 Technical Data:
Manufacturer / Product:
ALFA Networks / R36
Protocols:
UMTS/3G, PPPoE, PPTP, L2TP, CSMA/CA, CSMA/CD, TCP/IP, DHCP, Cable
Features:
NAT, Static Routing, DHCP Server, Virtual Server, DMZ Host, SPI Firewall, MAC Filter, Dynamic DNS, UPnP, VPN Pass Through (IPSec/PPTP)
USB Interface:
1 x USB 2.0 Interface (3G Modem / WiFi USB Adapter)
WAN Interface:
1 x 10/100Mbps WAN Port
LAN Interface:
1 x 10/100Mbps LAN Port, Auto MDI-X, Auto-Negotiation
WiFi Chipset:
Ralink RT3070
WiFi Frequency:
2.4 GHz (Standard)
WiFi Standards:
IEEE 802.11b: 11 Mbps
IEEE 802.11g: 54 Mbps
IEEE 802.11n: 150 Mbps
TX Power:
802.11b - ETSI: 100mW / 20dbm
802.11b - EXPORT: 500mW / 27dbm

802.11g - ETSI: 100mW / 20dbm
802.11g - ETSI: 300mW / 25dbm

802.11n - ETSI: 100mW (20dbm)
802.11n - EXPORT: 300mW (25dbm)
RX Sensitivity:
-90dBm@11MBit
-75dBm@54MBit
-71dBm@150MBit
Security:
64/128bit WEP, WPA/WPA2, WPA-PSK/WPA2-PSK (TKIP/AES)
Channels:
USA 11, Europa 13
WiFi Antenna:
detachable 5dBi WiFi antenna with RP-SMA connector
Dimensions:
9.3 x 7 x 2.6cm
Weight:
74g
Operating Temperature:
0ºC - 40ºC
Operating Humidity:
10% to 85% non condensing
Scope of delivery:
1 x ALFA R36 Mobile Router, Extender
1 x 5dBi WiFi antenna (RP-SMA)
1 x 230V EU Power supply (12V/1A)
---
Shipping weight:
0,40 Kg
Product weight:

0,33

Kg