2.4 GHz WiFi Omnidirectional Antenna | Sucker, 2m Cable, RP-SMA male, 14dBi
---
This very compact omnidirectional WiFi antenna is designed for the 2.4 GHz frequency band (IEEE 802.11 b/g/n) and has a gain of 14dBi.
Omnidirectional antennas are charcteristically constructed to cover a large area and to provide the Wifi signal into all directions. It will be typically used for base stations (e.g. DSL Router / Access Point) or clients (Notebook / PC).
The enclosure of the antenna is made of solid plastic and stainless steel. The robust, light weight and UV resistant construction is weatherproof which makes the antanna usable for in- and outdoor appliances. It has a very special, compact design and a wide vertical beamwidth!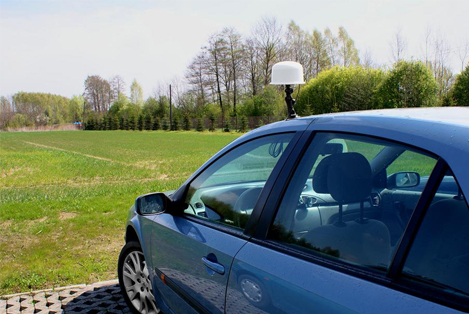 As shown on the product pictures, the antenna has an support foot with a sucker which is vertical and horizontal adjustable. You can perfectly use this antenna for mobile solutions because it is very easy to install and adjust the antenna. Especially war-driving fans will have fun with this antenna.
The antenna has 2m cable with RP-SMA female connector and can be directly connected to your WiFi device.
Our tip: You get the highest range and the best performance if you have a free line of sight between the antenna and the client's antenna.
Technical Data:
Type of Antenna:
Omnidirectional Antenna
Gain:
14dBi
Impedance:
50 Ohm
Frequency:
2,4 - 2,5 GHz
(IEEE 802.11 b/g/n)
VSWR:
max. 1.5
Polarisation:
Vertical (Linear)
Beam width:
360° Horizontal
16° Vertical
Connector:
2m Cable with RP-SMA female connector
Appliance:
In- and Outdoor
max. Input Power:
50 Watts
max. Windload:
30 N
Dimensions:
15cm x 10cm
Weight:
350g
Color:
White
Operating Temperature:
-20° to +65° C
Scope of delivery
1 x 2.4 GHz 14dBi WiFi Omnidirectional Antenna with support foot and sucker
---
Shipping weight:
0,47 Kg
Product weight:

0,37

Kg